OD: 48mm~114mm and as per request.

HDG: More than 80 micron.


Ground Screw – An Important Role in Foundation Systems
What kind of ground screws do we supply?
After devoting ourselves to finding the requirements of our customers for many years, we mainly supply four kinds of ground screws as follow: (custom sizes and shapes are also available.)
Type A
Type A is a kind of ground screw without flange plate and U-shaped post support so that it can be fixed only by bolts. The simple structure makes it affordable and easy to adjust and install. It is mainly used in solar power base support, farm fence and traffic signs, etc.
Type A-1
Type A-2
Type A-3
Type A-4
Outer diameter
60 mm
68 mm
68 mm
115 mm
65/76 mm
Length
550 mm
580/570 mm
560 mm
1200/1600/1800/2000 mm
Pipe thickness
1.5–2 mm
1.5–2 mm
3–4 mm
Holes
3 × diameter 16mm
Products
Type A-1
Type A-2
Type A-3
Type A-4
Type A-5
Type A-6
Type A-7
Type A-8
Outer diameter
76/114 mm
60/76 mm
76 mm
67 mm × 67 mm
Length
1200/1600/1800/2000 mm
560 mm
Pipe thickness
3–4 mm
1.5-2 mm
Holes
4 × diameter 13 mm
2 × dia. 16 mm
3 dia. 13 mm
8
Products
Type A-5
Type A-6
Type A-7
Type A-8
Type B
This kind of ground screw features its flange plate, which joints with the pipe tightly for easy connection with the post. The holes on flange plate also helps to make sure the ground screw grabbing the earth firmly by bolts. It plays an important role in timber construction, docking station, etc.
| Type B | Type B-1 Type B-2 | Type B-3 | Type B-4 |
| --- | --- | --- | --- |
| Outer diameter | 219 mm | 89/114 mm | 168 mm |
| Length | 2700/3500 mm | 1200/1600/1800/2000 mm | 2607 mm |
| Pipe thickness | 5–8 mm | 3–4 mm | 5–7 mm |
| Flange thickness | 8–12 mm | 8 mm | 8 mm |
| Flange outer diameter | 298 mm | 220 mm | 250 mm |
| Holes on flange | 8 × dia. 22 mm | 6 × dia. 14 mm | 12 × dia. 15 mm |
| Products | Type B-1 Type B-2 | Type B-3 | Type B-4 |
Type C
Different from other ground screws, this one has a U-shaped base support, which makes it much easy, convenient, and firmly connected to the fencing post. It is ideal as deck foot anchors, easy to operate and install widely used in farm and garden fences.
Type C-1
A1(Base part)
70 mm
70 mm

………..

Image

……………..

A2
71 mm
91 mm
110 mm
H1
130 mm
130/170 mm
130/170 mm
Holes
10 × dia. 11 mm
H2 (Pipe part)
565 mm
555/735/870 mm
735/870 mm
Outer diameter
67 mm
holes
2 × dia. 13 mm
Type D E F
According to the appearances of pole anchor ground screw, we classify them into three types as follow:
Type D
Type E
Type F
Length(mm)
800–1800
800–1800
800–1800
Screw Diameter (mm)
500–1400
/
500–1400
Screw Thickness(mm)
10–16
2–5
10–16
Pole Diameter(mm)
2–5
/
2–5
Surface
Galvanized or Color Coated
Galvanized or Anti-rust Color Coated
Custom Size Are Available.
Products
Application:
Fence, barrier, solar power system, shelter, shed, traffic sign, tent, marquee, timber construction, advertising board, flag poles.
Installation
For installation guide, please visit the ground screw installation manual.
Manufacturer of Ground Screw Post Anchor for Foundation System
Ground screws, known as helical anchors, piers, screw in footings or screw piles, are screwed into the ground with the application of torque, they're used for deep foundation solutions to construct new or repair existing foundations.
They are produced with the use of different sizes of tubular hollow sections for the anchor shaft. The parts may consist of a solid square bar shaft or a hollow tubular shaft with helical plates welded to it. Tubular ground screw have, however, become the standard screw foundations.
Due to the design specifications and ease of installation of the foundation screw posts, they are mostly used when soil conditions do not favor standard foundation solutions. The anchor shaft does the work of structure load transferring to the piles. Helical pile steel plates are welded to the anchor shaft to correspond with soil conditions.
Screw foundation systems can be installed in the ground with minimal vibration and noise. This means of installation has proven to be effective, in conjunction with load dispersion mechanism, which provides an effective performance in different types of soils, even in earthquake zones possessing liquefaction potential.
Advantages of Ground Screw Foundation:
Cost efficient than driven or drilled piles.
Shorter duration of project.
Minimizes or totally eliminates the use of concrete.
Ease of access.
Fast, safe and efficient installation.
Less soil displacement.
Reduced transportation costs.
Reduced carbon footprint of the project.
Immediate loading.
Installation possible in any weather or site condition.
No excavation or soil disturbance.
Environmentally friendly.
Easily removable after foundations are no longer needed.
Reduced risk to the workforce.
Tension vs. Compression
Though the terms helical piles, helical piers, helical anchors, screw piles, helix piers, and helix anchors are used interchangeably, they differ in use. Most often, the term "pier" refers to a helical pile loaded in axial compression, while the term "anchor" refers to a helical pile installation loaded in axial tension, mostly solid square shafts. However, helical piles have the capacity to resist both tension and compression loads. This property makes it suitable for the erection of masts, and signs as well as retaining structures.
How Screw Foundation Systems Work
Screw foundation systems are made of hollow tubular steel sections, with at least one or more helices attached around them. After a constant pitch, the piles penetrate the soil instead of augering through the soil. The shafts and flights of the helices are designed specially to suit particular soil conditions. As the pile reaches the target depth, it remains in a fixed position and is then filled with concrete.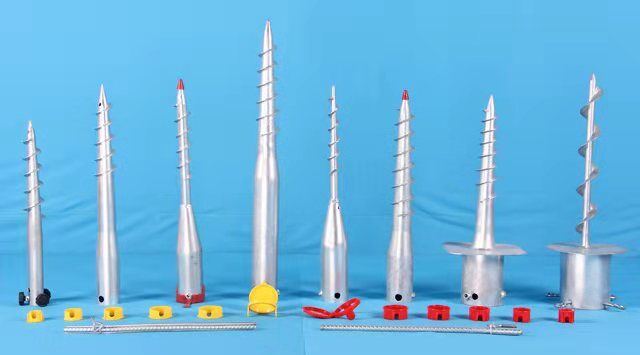 How is Ground Screw Post Anchor Installed?
Large torques required to screw into the ground the helical piles are applied using powerful hydraulic motors. These motors are secured onto handling machines of different size ranges such as ½T Bobcats, 20T Excavators or as high as 100T crane rigs mounted on a mast. Combining a hydraulic motor and handling machine can be determined by:
Soil profile and site ground conditions.
Limitations of site access.
Minimum torque requirements during installation.
The hollow sections are joined using bolted couplings. The only limitation of the installation depth is the density of the soil and practicality, which is based on the economics. The bearing plate of a helical pile is one pitch of a screw thread. Regardless of the diameter of a helix, all helixes have a 3" pitch. Helical plates are usually spaced far apart, at enough of a distance to allow each individual bearing unit to function independently.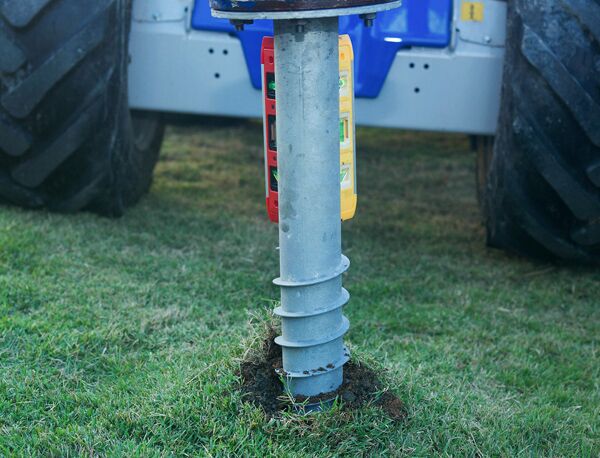 Where Can Ground Screw Piles Be Installed?
The installation of helical piles depends on the location and the solution designed.
Low temperature environment.
In any soil type.
Placed at an angle of about 45°.
In favorable conditions that suit your requirements.
Piles projecting outwards from the ground.
To support structures with the capacity to resist both tension and compression loads.
Applications of Screw Foundation Systems
Ground screw post anchor for a foundation system are used extensively for a wide range of uses which include residential, industrial and commercial applications.
Screw foundation systems are suitable for building new homes, sound walls, construction of high-rise structures, communication towers and bridges. Here are some of their applications:
Heavy equipment foundations for immediate loading.
Wind and seismic loading applications.
Vertical axial compression loading in tight access or inaccessible areas for foundation support.
Construction of foundations in noise-sensitive areas where vibration is a concern.
Ground screw piles can also be used to repair and stabilize foundations, to ensure the property does not lose value. When foundations are exposed to moisture over a long period of time or construction is on unstable soil, structural and foundation damage becomes visible.
Large gaps in window and door frames.
Cracking interior of plaster walls.
Appearance of multiple nail pops in ceilings and walls.
Walls leaning noticeably.
Uneven or settling floors.
Tilting or leaning chimneys.
Visible cracks in foundations or basement walls.
Do Ground Screw Post Anchor Corrode?
All steels corrode. Shean Steel considers corrosion in all of its designs to ensure that the piles meet performance requirements throughout their design life. They are all hot dip galvanized with more than 80 micron.
Engineering Requirements of Earth Screw Ground Anchors
Ground screw foundations are an essential part of any building, care should therefore be taken when they are being designed. Several factors determine the design of a foundation screw, some of which are:
Building Plan: This clearly indicates the number of piles required as well as their locations.
Site Plan: This is used in determining the size of equipment to be used on the site.
Design Loads: this determines the size of helix and the shaft type to be used for the design of the pile.
At Shean Steel, we have ground screw for sale. If you want to buy ground screws, our foundation ground screws and anchors are reliable and used worldwide by our customers for deep foundation applications and heavy equipment foundations. They